Fermenting to Savour the Seasons with Naomi Devlin
A relaxed, hands-on workshop to teach you the fundamentals of how fermentation and pickling can transform fresh, seasonal produce into delicious and nutritious staples that you can enjoy all year round and use in everyday cooking.
A recent study has shown that fermented food is one of the best things you can eat for gut health and it's also a great way of capturing the flavour of seasonal stars to relish later in the year.  Once you've learnt the basics, you can ferment a whole range of vegetables to make probiotic gut boosters, helping you to manage seasonal gluts and minimise food waste.
Each workshop will be different as you will work with seasonal produce is available.  You could be learning how to make beet kvass, preserved oranges, radish and carrot kimchi or honey fermented rhubarb.  You'll also learn how to make water kefir, milk kefir, kvass and labneh and there will be tasters of a host of pickly things including fermented umami powders. Please see below for an idea of what each workshop will cover, subject to seasonal availability.
Monday 7th Feb 
• Purple Sprouting Broccoli kimchi
• Celeriac & caraway kraut
• Preserved lemons or oranges
• Beet kvass
• Honey fermented rhubarb
Monday 13th June 
Gooseberry pickles
Baby courgette gherkins
Kohlrabi or baby turnip torshi
Radish and carrot kimchi
Beet kvass
Monday 5th September
Content TBC
At the end of the day, you will take away everything you have made and will be equipped to start fermenting food and drink on your own at home.
Time: 9.30am - 4pm
Cost: £125 per person
Please read our terms and conditions before booking.  By completing the booking process you are confirming you agree and understand the terms and conditions, including the cancellation policy.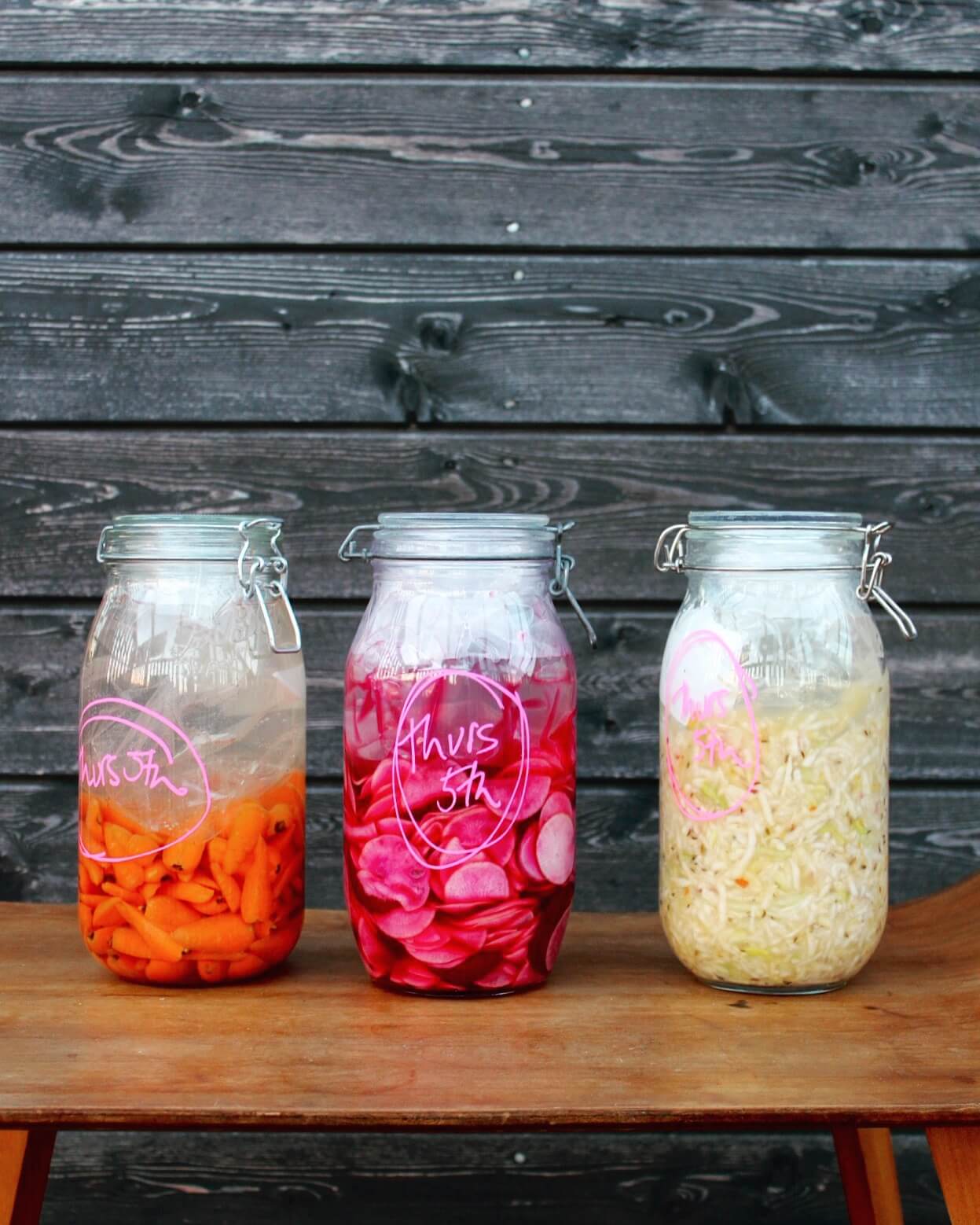 About your host Naomi Devlin:
Naomi Devlin is a food writer, fermenter and nutritionist, based in beautiful West Dorset. She teaches courses on gluten free cookery, nutrition and gut health around the UK.
Originally from Ireland, Naomi grew up in a commune in rural Dorset, milking cows, growing veg, cooking and eating with the seasons. Thinking that London was where it was at, she studied costume design and lived the fast life, working as a costume designer and later a children's wear producer. But it just didn't feel right, so she retrained in holistic nutrition and started teaching her clients to cook from scratch in order to empower them to take back control of their health. A coeliac diagnosis started her journey into the fascinating world of free-from as she tried to recapture the flavour and diversity of the food of her youth and that connection to the earth, she looked around the world for inspiration from cultures that relied on grains and ingredients that were inherently gluten free and unprocessed. There she found the flavour and excitement that she was looking for, and hasn't looked back since.
2016 saw the publication of her first book, River Cottage Gluten Free, an instant bestseller that celebrates her 'real food' approach to cooking free from food. Naomi's next book, Food for a Happy Gut takes the foodie approach to gut health with gut friendly recipes that focus on delicious, flavoursome additions to your diet rather than suggesting you cut lots of things out. She celebrates seasonal produce, fermented food, and delicious nutrient dense sprinkles, drizzles and tonics. Whatever she's cooking, the focus is always on satisfying, colourful food, that feels comfortingly familiar, yet intriguingly different.